~ The 'go-to' online marketplace for sellers ~
Sri Lanka's largest marketplace ikman.lk has experienced exponential growth to underscore its status as the most preferred and popular platform for online selling.
While the online space has become increasingly popular for sellers, ikman.lk's favorable foothold in the marketplace and the value added features and benefits the site has to offer is a magnet for sellers to achieve speedy results in making their online transactions a success. Demonstrating seller confidence in ikman.lk, to-date the total number of live advertisements on the site stands at 165,000. This is considering seller ads are accommodated for a maximum of two months on ikman.lk and the fact that the seller has the option of deleting the ad once the item is sold.
Sellers on ikman.lk not only have access to Sri Lanka's largest platform for trading goods and services but also the advantage of a larger buyer interest. Current total interested buyers, for the month of February 2017 is at an impressive 2 million, while seller to buyer ratio stands at 1:35 ensuring that every seller has a minimum average of 35 buyers showing interest in their product.
Research has also endorsed ikman.lk's strong buyer seller ratio, with findings showing ikman.lk as the most visited site for buyers and sellers across all main categories. Research shows that advertisements on ikman.lk receive more interest when compared to other competitive platforms both online and offline; Ads posted on the Cars and Vehicles receive 8 times more calls, for House and Property, it's twice the interest when compared to competitors, for Electronics it's 91 times more and House-Hold items 63 times more.
Additionally, the convenience of posting advertisements from the comfort of their home, ability to edit the information contained in the advertisement at any given time, and even removal from the online marketplace when necessary makes ikman.lk the online marketplace of choice for sellers.
"Sellers are an integral part of ikman.lk. Understanding their needs we have optimized the marketplace with features that makes it easy for sellers to reach out to customers fast. Through the many features ikman.lk also ensures the presence of interested buyers in the marketplace," said Director Customer Support Mr. Shaif Mohamed"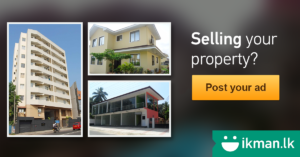 While ikman.lk continues it's aspiration to be the one-stop online classified destination with popular categories for both buyers and sellers, there are a number of other services that fall within the ikman.lk brand with each service having it's own features in helping sellers sell fast and reach more buyers. ikman "Memberships" and "Buy Now" are two such value added features.
In authenticating seller advertisements ikman.lk has created a simple and effective SMS verification process. When a classified is posted, a unique four-digit code is sent through the user's mobile. Should the code not be entered within the specified 10 minutes, the advertisement becomes invalid. This process ensures buyers' have access to 100% genuine advertisements.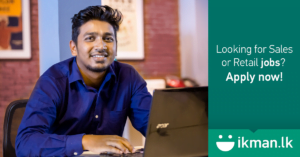 ikman.lk's robust online presence in providing sellers many features and benefits in promoting their products helping them achieve success has undoubtedly achieved seller confidence assuring its place as the premier marketplace for sellers.

Household Items - Used 8 Months