The Sri Lankan mobile phone market is one that is constantly going through changes and shifts. Home to over 70,000 mobile phone ads at any given time, the ikman site is always rich with insightful stats and trends on how the industry is performing. Let's take a look at the current state of the local mobile market, based on our in-house findings.
Individuals across the world now consider mobiles to be essential. The ability to communicate with friends, family, coworkers, and clients, as well as having access to emails and a plethora of convenient apps and tools, are just a few of the reasons why mobile devices have become an indispensable staple in our day-to-day routines.
Penetration in terms of mobile phone usage is well on the rise in Sri Lanka. However, a significant portion of the population cannot readily afford the latest and high-end ranges of the mobile phone market. This is more so the case now, owing to the price hikes following the country's economic downturn. Thus, an interesting trend that has surfaced recently is that of the secondhand mobile market soaring to record heights.
New vs. used mobile phones: what is more popular in Sri Lanka?
Several years ago, most consumers would face little to no trouble purchasing a brand new smartphone. As a result, the used (secondhand) phone market remained a very niche and consistent industry. However, in recent times, the wholesale secondhand phone market has grown significantly, due to the many changes and shifts within the mobile phone industry, and not to mention – the country's economic downturn.
The secondhand market has strengthened as more consumers become aware of the many advantages of purchasing used products. One of the factors for this switch in buying habits can be high quality, wherein used mobiles will function just as well as brand new ones due to their durability.
Then comes the advantage of affordability, as secondhand phones are less expensive compared to brand new phones. This gives customers a lot more options and freedom to choose the mobiles they actually desire.
As such, used mobile phones hold a strong position in the current market, dominating 86% of the ads, while new mobile phones account for only 14% of the ads.
Which price range is common for mobile phone users in Sri Lanka?
This shows that the majority of mobile phone prices were above LKR 50,000, accounting for a whopping 49% of all mobile ads on ikman.
However, only 4% of the advertising is displayed on mobile phones under LKR 10,000, while only 6% of mobile phone ads fall between LKR 10,000 and LKR 20,000. While these price ranges can be considered relatively affordable, it may vary depending on an individual's household income.
If we focus on the mid-range, mobile phones priced between LKR 20,000 and LKR 30,000 account for 13%. Phones whose asking prices are between LKR 30,000 and LKR 40,000 account for 15% of mobile advertising on ikman. The LKR 40,000 – LKR 50,000 category accounts for 13% of all phone ads placed on ikman.
Top-selling mobile phone brands in Sri Lanka
According to the above infographic, Apple phones take up the lion's share of 45% on the ikman website and are the most popular mobile phone brand, followed by Samsung which is at 21% and is the closest competitor to Apple.
Thereafter, we have Xiaomi at 7%, Huawei at 5%, and Sony at 4%. However, other brands, like OnePlus, Google, Nokia, and Oppo are also available on ikman. Collectively, they account for the remaining 18% of mobile phone ads on ikman.
Mobile phone ads on ikman: members vs. non-members
According to the infographic, it's members who contribute 46% of all mobile ads on ikman. Mobile phone ads by private sellers take up the remaining 54%.
ikman provides a membership option to assist all types of businesses. This includes small and medium-sized businesses so that they can thrive online. With the ikman membership, the chance of securing good deals and landing sales-qualified leads are high.
If you are interested in or already selling mobile phones, having a presence on ikman can notably boost your visibility and sales. Since ikman doesn't charge a commission, unlike most Sri Lankan e-commerce platforms, your cost per sale also reduces drastically. This in turn will provide mobile businesses and resellers onboard ikman with a competitive edge in the mobile market.
Mobile phone ads by city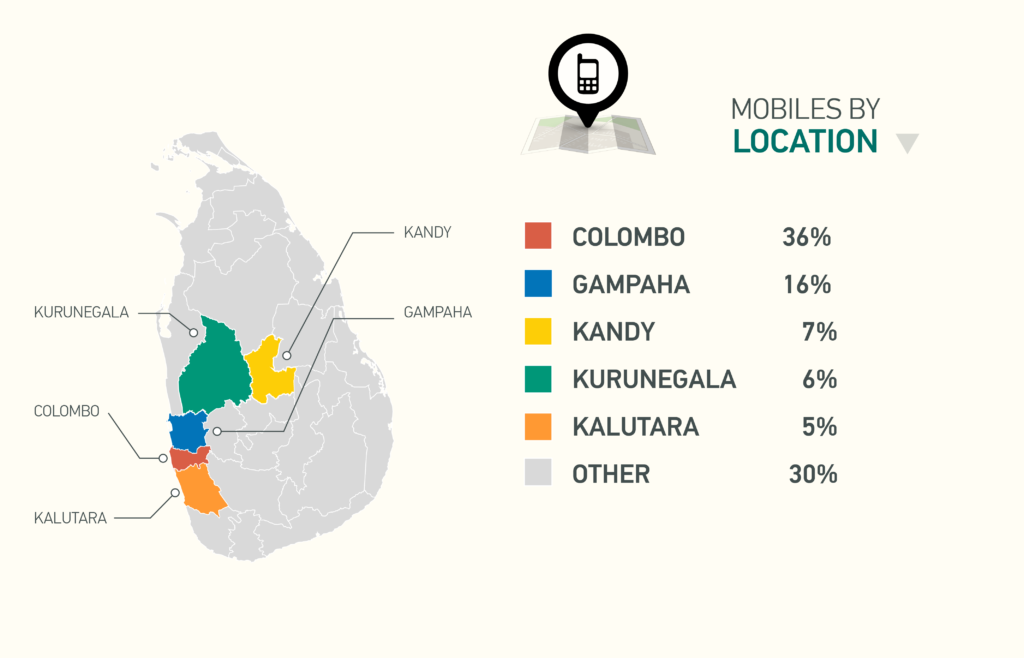 As Sri Lanka's commercial capital, Colombo snatches 36% of the mobile ads on ikman. Gampaha is the second-most popular city for mobile phone ads on ikman with a 16% share. Kandy, Kurunegala, and Kalutara are next, occupying 7%, 6%, and 5% of ad space respectively.

We can also see that 30% of the ads in the infographic above come from places like Rathnapura, Galle, Matara, Kegalle, and Anuradhapura.
Final takeaway
It's no surprise that mobile phone sales are breaking records as the number of smartphone users increases year on year. What's more, future mobile phones are anticipated to become more integrated into our daily lives than ever before. Some futurologists believe that mobile phones will one day serve as remote controls for every aspect of our lives.
One thing's for certain: the technology involved in mobile phones and mobile networks has developed so rapidly over the last few years, that it's going to be nothing short of an exciting ride. We at ikman can't wait to see how the Sri Lankan mobile phone market will take shape in the years ahead.