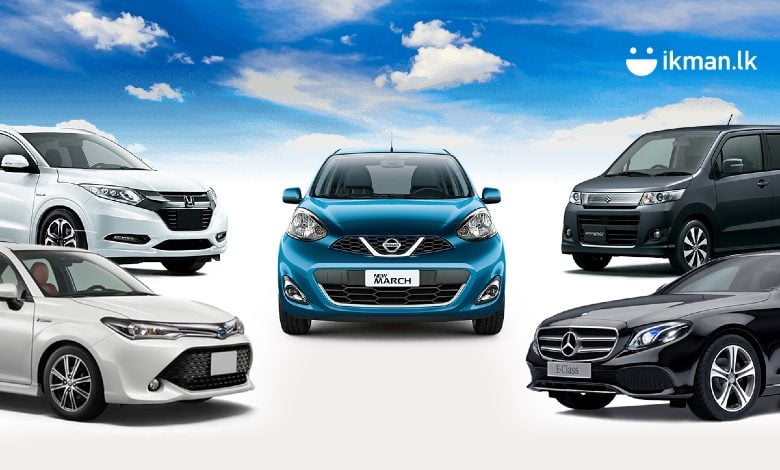 Ever wanted to know what the top 5 cars in Sri Lanka are? Ever wanted to own one of the top cars? ikman, being Sri Lanka's largest online marketplace, identified the following as the top 5 cars in Sri Lanka, using the search volumes and popularity of inventory on ikman. The top 5 cars are Toyota Axio, Honda Vezel, Suzuki Stingray Wagon R, Nissan March, and Mercedes Benz E200. These are popularly available among the cars for sale in Sri Lanka.
Toyota Axio
The 11th Generation of the Corolla Toyota introduced two models, namely, the E160 and the E170. What we have in Sri Lanka is the same E160 model that is sold in Japan while the E170 is for international markets, the latter being larger and substantially different than the E160 model we have here. So, the E160 is a sedan version and is named Corolla Axio.
Mechanical Specifications
The E160 or Corolla Axio model is shorter in length and narrower in width, with engines kept below 2.0-litres. That is to comply with the Japanese Government dimension regulations enabling Japanese buyers to pay a reduced road tax. Power comes from a 1.8-liter four-cylinder engine that works with a standard continuously variable automatic transmission.
However, a drawback that gets highlighted in spite of the luxury and comfortable interior is the ride quality and steering feel that are not up to the expected standard. To add to that is the modest four-cylinder engine's power at highway speeds.
Other Specifications
The expected standard features consist of LED headlights, air conditioning, a touchscreen multimedia system with iPod connectivity, and Bluetooth streaming audio. In addition, there are also 60/40-split, folding backseat. Moreover, the vehicle can seat five adults.
Safety System
Its safety system comes with forward collision warning with pedestrian detection and automatic emergency braking. Moreover, there are also lane departure warning with steering assist, adaptive cruise control and automatic high-beam headlights.
Market Price
Among cars for sale in Sri Lanka, you can find the 2013 to 2018 Toyota Axio models priced ranging from Rs. 4,250,000 to Rs. 7,200,000.
Honda Vezel
The Honda Vezel is a 5-door 5-seat subcompact crossover SUV. It combines the qualities, elegance, and functionalities of an SUV, coupe, and minivan with great fuel economy. Honda introduced it to the Japanese market in late 2013. The Vezel came to Sri Lanka with the revived name Honda HR-V. However, the imported versions retain the name Vezel. This model is popular among the used cars for sale in Sri Lanka.
Mechanical Specifications
The Vezel is available in two powertrains
a conventional gasoline-powered vehicle
a hybrid electric vehicle
The conventional Vezel comes with a 1.5-liter L15 direct-injection DOHC i-VTEC inline-four engine coupled to a continuously variable transmission (CVT). It produces 80 kW (110 HP) at 5800 RPM. It is also available in front-wheel and all-wheel drive versions.
The Vezel hybrid version comes with Honda's next-generation sport hybrid i-DCD (Dual Clutch Drive) system that combines a 97 kW (130 hp), 156 N⋅m (115 lb⋅ft) inline 1.5-liter L15 direct injection DOHC i-VTEC engine. It has a 22 kW (30 hp), 160 N⋅m (118 lb⋅ft) electric motor that is as equal as the power realized by a 2.0 litre engine. So, this gives an amazing driving feel.
Fuel Economy
The hybrid version
27.0 km/l (76.3 mpg‑imp; 63.5 mpg‑US) (3.7 L/100 km) in the Japanese JC08 cycle
The gasoline version
20.6 km/l (58.2 mpg‑imp; 48.5 mpg‑US) (4.9 L/100 km) in the JC08 cycle.
The Exterior
The lower body has an SUV feel and the upper body has a coupe feel. Therefore, this gives it a distinct and sharp character. Moreover, at the front, there are two LED lights on both sides. There is also an LED light guiding stripe on the rear lights.
The Interior
Well, it has a personal feel. In fact, the use of LED lights for room-lamps and front-map-lamps enhances this personal feel.
Moreover, Honda's "Expansible Cockpit" concept makes it spacious. Certainly, the use of soft materials on most parts that passengers touch is much thoughtful.
The vehicle features a high-quality, smooth, and advanced instrument panel. This is placed high enough so that the front seat occupants have enough personal space. More features on this center console include flexible drink holders with a depth adjustable bottom. At the rear, there is ample leg-room. In addition, it has the seats optimized in a way that the occupants are secure and comfortable even on long journeys.
The Vezel comes with a fully automatic air conditioning unit. As a result, the simple design allows wide flow air-conditioning vent on the front passenger side.
Facelift (2018)
Honda released the facelifted model on 15 February 2018.
Features
revised chrome bar grille
LED headlamps
thin chrome garnish strip on the rear trunk
updated front bumper
reshaped front seats
updated connectivity functions with Apple CarPlay and Android Auto.
re-tuned hybrid powertrain
redesigned brake pedal mechanism for better brake feel
quieter inside, thanks to improved insulation and a quieter fuel pump
Price Ranges
The 2013 to 2018 Honda Vezel car price in Sri Lanka ranges from 4,625,000 LKR to 9,000,000 LKR.
Suzuki Stingray Wagon R
Suzuki released the Stingray Wagon R in February 2007. It came as a sportier version of the third generation Suzuki Wagon R. In fact, the name Stingray is an homage to the "Sting Ray" Fronte from 1970. It is a 5 door kei model, and 5 adults can ride in it.
Mechanical Specifications
Powering the Stingray Wagon R is a 658cc petrol engine with a turbocharger. In fact, this helps enhance the speed and acceleration. Moreover, it comes with a maximum power of 64ps/6000rpm and maximum torque of 98Nm/3000rpm. It also comes with CVT transmission type. In addition, its front and rear brake types are disc and drum, respectively. You also get a power assisted (electric) steering option. On average, the Stingray goes from 0 km/h (0 mph) to 100 km/h (62 mph) in about 15 seconds.
Interior
You can enjoy interior heating in the Stingray. You can see fabric used for the seat upholstery. The rear seat type is bench. Unlike the Wagon R's dual tone interior, the Stingray comes only in a single tone interior. At the same time, power windows are available only in the front. Sadly, it is the same for door pockets, too. Moreover, it does not feature parking sensors and headlight and ignition on reminders.
Safety
Unlike the Wagon R, the Stingray Wagon R does not come with automatic brake assist, an anti-lock braking system (ABS), or electronic brake force distribution (EBS).
Price Range
Among cars for sale in Sri Lanka, the Suzuki Stingray Wagon R price in Sri Lanka ranges from around 2,950,000 LKR to 4,595,000 LKR for the 2014 – 2018 models.
Nissan March
The Nissan March, also known as the Nissan Micra, is a 3 door 4 / 5 seat hatchback model. In fact, Nissan launched a facelift for the March in 2007.
Mechanical Specifications
The 2007 Nissan March comes with a 1.4 L four-cylinder engine that makes 87 bhp of power at 5200 rpm. In fact, its maximum torque is 128 N.m (94 lb.ft / 12.1 kgm) at 3200 rpm. Moreover, it comes in four-speed automatic transmission.
Fuel consumption estimate for urban for automatic transmission is 8.7 L / 100 km. It is 5.7 L for extra-urban. For both combined, it is 6.8 L. It is 8.7 and 6.8 with the manual.
Moreover, it takes approximately 15 seconds to accelerate from 0 – 100 km / h.
Interior
This model features air conditioning, power mirrors, and power windows. It also has tilt adjustable power steering.
Moreover, the infotainment system is not that advanced as it comes with only a radio, CD player. However, mp3, aux-in with 4 speakers are there. Moreover, there is a 12 volt power outlet.
In addition, the driver's seat is height adjustable.
Exterior
In this model, the overspray around window rubbers and under mudguards is a giveaway. One might also find any mismatch in the colour of adjacent panels.
Safety
This model's safety features are as follows:
Dual front airbags
Anti lock braking
Brake assist
Central locking remote control
Electronic brake force distribution
Engine immobiliser
Seatbelts – pretensioners front seats
Active front-seat head restraints
Front side bags (optional)
Curtain airbags (optional)
Price Ranges
The Nissan March price in Sri Lanka ranges from around 870,000 LKR for the 1999 model. It goes up to 2,900,000 LKR for the 2007 model.
Mercedes Benz E200
Mechanical specifications
The Mercedes Benz E200 comes with a 1991 CC 4-cylinder petrol engine with direct injection. It also generates 135kW and 300Nm. It supports the nine-speed (9G-Tronic) automatic transmission to deliver a smooth driving experience once you're on the move. In fact, in a town area, this model is incredibly efficient showing a fuel consumption of 8.9L/100km. It also features Eco Stop / Start.
Interior
The cabin remains quiet up to highway speed. Interestingly, there's almost no wind or road noise even at 110km/h.
The interior also features two enormous and high end 12.3 – inch control screens. There is minimal glare and reflection as they are placed perfectly within the dash. In addition, they are also very easy to understand even with a quick glance at the screen while driving.
The displays show a range of different information compositions. They include average fuel, average speed, fuel consumption etc.
Safety system
This model comes with features such as parking pilot with Active Parking Assist, 360-degree camera, and Adaptive Brake with holding function. There are also nine airbags, acceleration skid control, ABS, and brake assist. Moreover, brake pad wear indicator, Driving Assistance Package, ESP with Crosswind Assist and run-flat safety tyres are also available.
Price range
The Mercedes Benz E200 price in Sri Lanka ranges from around 2,700,000 LKR to 28,700,000 LKR.
The top 5 cars in Sri Lanka are Toyota Axio, Honda Vezel, Suzuki Stingray Wagon R, Nissan March, and Mercedes Benz E200. While they come in different price ranges, you can go for the model that most suits your driving and life styles. Once you decide, you can look to buy a brand new or used model you like from ikman.lk.

Nissan Sunny EX salon 2000