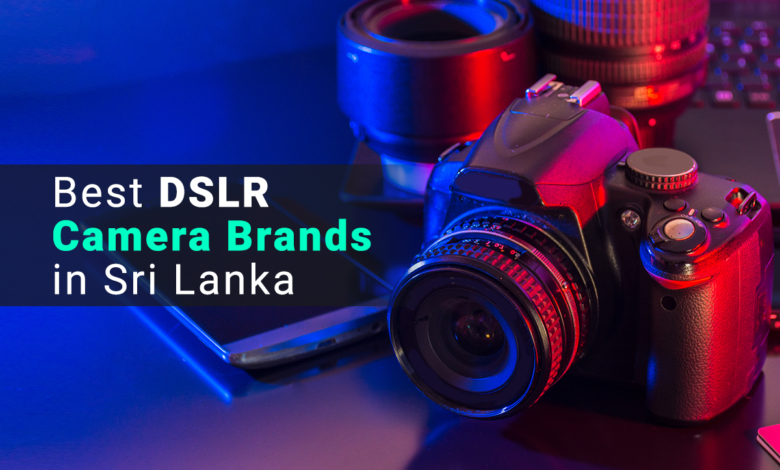 With the advancements in the field of tech, technologies that surpass DSLR cameras have begun to surface. Even though technologies like mirrorless cameras exist, DSLRs still offer some benefits over them. Better auto focusing, longer battery life, and a wider range of interchangeable lenses are some of them.
So today, we are going to discuss the best DSLR cameras in Sri Lanka and alternatives to them.
Top 2 DSLR camera brands in Sri Lanka
Alternatives to DSLR cameras in Sri Lanka
Best DSLR camera brands in Sri Lanka
Nikon –Prices start from Rs. 209,000.00
Nikon is a leading provider of cameras in Sri Lanka as well as the world. The company Nikon offers its users some of the highest quality products available. So with any Nikon Camera, you can see your photos come to life in great detail and clarity.
There are many features that have made Nikon cameras one of the best DSLR cameras in Sri Lanka. This includes precision optical viewfinders, larger image sensors, and battery-saving electronic viewfinders. The higher quality it offers has made it one of the top choices of professional photographers.
When it comes to DSLR camera solutions, Nikon offers a wide range of products. They are,
DX series DSLRs – Easy to use and a beginner-friendly camera line that needs no special training.
FS series DSLRs – Made with professionals in mind and offers more advanced features.
Special purpose DSLRs – Crafted with unique users in mind, and all of these cameras are one of a kind.
Nikon is one of the biggest suppliers of DSLR cameras in Sri Lanka. Their latest products feature the new mirrorless technology, and this trend seems to be taking over the whole camera industry. For example, Nikon Z series cameras are some of the better options available when it comes to mirrorless cameras.
Canon – Prices start from Rs. Rs179,500.00
Canon is another leading brand to keep in mind when you are looking for a DSLR camera in Sri Lanka. The brand is one of the main reasons for the rise of the professional photography industry. The Canon company was founded in 1937 and became popular in very quick succession. Today, it is one of the biggest camera manufacturers in the world and a direct competitor to Nikon.
From camcorders to point-and-shoot cameras, Canon covers every image capturing need of its users. Also, the dynamic range of Canon cameras is wider and guarantees to deliver professional results in every shot you take.
When it comes to DSLR cameras, Canon products are of the highest standard. Features like full-frame, better autofocusing, customizability, and high durability ensure the satisfaction of the photographer. Their latest EOS 5D Mark IV is a great example of this.
Just like Nikon, Canon is also moving towards a mirrorless camera product line as the technology offers much higher quality images than the older versions. If you are someone who is in the market for a DSLR camera in Sri Lanka, Canon is indeed a great choice.
Alternatives to DSLR cameras in Sri Lanka
Mirrorless cameras are one of the promised alternatives to DSLR cameras. So here are the top 3 brands known for their mirrorless cameras in Sri Lanka.
Fujifilm– Prices start from Rs69,500.00
Fujifilm cameras are famous for their great image quality and high ISO captures. Using the same lenses used in DSLR cameras, their mirrorless variants offer the same quality at a lower price.
When it comes to Fujifilm cameras, there's a wide variety to choose from. They are,
Cameras that use GFX System –Laeger format mirrorless cameras
Cameras that use the X system – lightweight mirrorless cameras
Cameras that use FinePix technology – Durable hazard-proof cameras
Depending on the scenario, these cameras can perform and keep up with any other brand of cameras in Sri Lanka. So, if you are looking for a camera, keep in mind that Fujifilm is also a viable option.
Panasonic– Prices start from Rs. 103,228.00
Usage of cameras sometimes exceeds the need for still images. This is where brands like Panasonic come in. Panasonic cameras offer much better options when it comes to advanced video and filmmaking features.
Their camera lineup comes under the name of LUMIX, and their primary goal is conquering the mirrorless camera market. As we mentioned earlier, Mirrorless cameras are a better and cheaper alternative to traditional DSLRs. With better options for video capture, Panasonic cameras satisfy the needs of a unique segment of the market.
Sony– Prices start from Rs129,500.00
The brand Sony doesn't need any introduction as it is one of the giants in the electronics field. Just like in any other field, Sony offers some of the highest quality cameras for a fair price. As the third-largest camera manufacturer in the world, they mainly have branched out towards mirrorless cameras.
Sony bolsters an impressive line of products that cover every photographic need, may it be still images or videos. The Cybershot camera line of Sony is some of the best there is at taking still images of moving objects. Therefore, Sony cameras are worth considering when purchasing a camera in Sri Lanka.
Also Read
Whether you are a professional or just someone who likes to shoot high-quality photos, DSLR cameras are still a great option. However, finding the right product to fit your camera expertise level is the key to getting the best out of your investment. Also, make sure to buy your DSLR camera in Sri Lanka from a reputable seller. When looking for low-price cameras for sale in Sri Lanka, don't forget to check out Ikman.lk and find great deals.
FAQs:
How much is a DSLR camera in Sri Lanka?
You can find DSLR cameras at many different price points. Usually, the professional camera prices in Sri Lanka start from Rs180,000.00.
What does DSLR mean?
Stands for Digital Single-Lens Reflex camera, DSLR cameras work with the optics and a single-lens reflex camera that has a digital imaging sensor.
Which company offers the best DSLR camera?
Nikon and Canon are the leading brands for DSLR cameras in the world. Both companies offer a great product range. So, when choosing a brand to buy your DSLR camera from, you can make your decision based on the requirements you have and your personal preferences.
What is the difference between a DSLR and a normal camera?
The level of control the user has over the camera is the main difference between a standard DSLR and a standard digital camera. So with a DSLR camera, you can have more options to play with the settings and have complete control over your creative photographing process.
Back to top button