Family, friend, unconditional love – where to get all these in one? DOG!
Their cuteness, mischievous nature, and clumsy behavior make us fall in love with them in an instant! This is the same reason as to why many people love having dogs as their pets. Most of all, this is the same reason why you cannot pick just the one puppy from among the bunch of fluff balls, when you go to adopt a puppy or buy a puppy from a breeder or pet store. They are all too cute to pick one!
But, be it one or all puppies, considering just their cuteness to decide which one to take home, is not going to do. In fact, there are a lot of concerns to be aware of when you plan on selecting a pup from dogs for sale, to be your lifelong friend.
Why?
The reason being, while there is an increasing number of breeders in Sri Lanka, not every one of them seem to follow proper guidelines in breeding or have the experience and knowledge in breeding dogs. This results in puppies with health issues growing up to be sick dogs or of different temperaments. For one thing, it might end you up in visiting the vet every day, and seeing your puppy suffering. To talk about the worst, there are people who abandon their dogs when they become too sick to take care of.
You can avoid all these unpleasant scenarios if you know what you need to check for, when you're selecting a puppy from a rescue organization, a breeder, or pet shop.
So, teach yourself some of the basic facts in dog breeding such as what healthy puppies look like and how bad breeding affects dogs. This will prepare you better when you go to a breeder. You can ask the breeder questions so that you will know if he lies, and the breeder will know that you know your facts!
Preparing Yourself
Before visiting the breeder, the pet shop, or the rescue organization, there is an important understanding and preparing that you need to do. In fact, this is the most important thing that anyone looking to have a pet dog should do.
Ask yourself these questions:
Do you understand that you're going to take the responsibility of another living being just like you?
Do you understand that your lifestyle is going to change, and lots of your time will need to be spent on and with the puppy?
Are you ready to commit to take care of your pet puppy? – Love, attention, food, hygiene, shelter, comfort, and expenses etc.
Are your family members fine with a pet dog in house?
Does your house have enough space for a pet dog to be comfortable?
Are you going to take your pet dog when you travel? If not, do you have arrangements to take care of your dog while you're gone?
Is your answer to all these questions a YES? Then, you're all set to go. If at least one thing from above is a negative, then you might need to think of a solution or reconsider getting a puppy.
Selecting the Breed You Prefer
First, talk to a veterinarian about having puppies. Tell the situation at your house / living place, your preferences, what you expect from your dog, your financial situation etc. The reason being, while some dogs need attention all the time, some prefer their own personal space just like us humans. Some act better as guard dogs. The medical and food costs will also depend on the breed. If you have children living with you, then you can get to know which breeds suit a house with children.
Moreover, if you are planning to get a rescue puppy or adult dog from a rescue organization where they have dogs for adoption, know that their personalities might be affected by previous experiences. All in all, the veterinarian will then be able to tell you what breed or type of a dog will suit all your conditions and requirements.
Selecting the Breeder, Rescue Organization, or Pet Store
There are many places with puppies for sale in Sri Lanka. So, decide first whether you want to get a puppy from a breeder, rescue organization, or pet store. Once you decide on one place, then do some research.
Ask around from friends and in online groups / forums for their feedback on the place you selected: whether they or anyone they know have got a puppy from the place you selected, if so how the dog is doing now etc. If the feedback is not as good as you expected, you could even get people to suggest places for you.
Impacts of Bad Breeding on the Dog
Why do you need to be concerned about selecting a good breeder / rescue organization / pet store?
It is because bad breeding results in lots of health, personality, social issues in the dog. Those issues might not be visible in the puppy, but will appear as they grow old. While it is illegal in lots of countries to dump or abandon puppies, there is no such law in Sri Lanka. Therefore, sadly, people dump puppies and even adult dogs without any care in the world when they find that the puppies or dogs are sick, deformed, or show bad temperaments.
So, make sure you are aware of the following, when you select where you want to get your puppy or rescue dog from.
Place
Once a place is decided, you yourself need to visit this place. Not just once but several times. That will give you a better idea about whether the puppies:
1. Are in a clean environment
2. Are clean
3. Have enough space to live
4. Have enough space to play
5. Are not separated from their mother / parents (except for rescue organizations or medical concerns)
6. Have comfortable places to sleep
7. Are in a safe environment
8. Have plenty of stimulation (like toys) and access to food and water
Another point to remember is that when you arrange to see the puppies, make sure you visit them at their home. If the seller / rescue organization wants to meet at a different location, you should be suspicious.
What to ask from the pet store / rescue organization / breeder
A full health history of both parents.
Proof of any vet checks, vaccinations, microchipping, and/or pedigree papers (where applicable).
Are the puppies used to being around people, and has the breeder been socialising them?
The puppies need to be used to being handled by people. Moreover, your breeder should have started general socialisation like meeting strangers. The puppies need to be used to household sounds and smells.
Have the puppies been checked by a vet, and are they being weighed regularly?
It is necessary that a vet checks and identifies any health issues in the puppies as early as possible. At the same time, it is necessary to keep checking regularly if the puppies are putting on weight at the expected rate.
Have the puppies and mother had worm treatments regularly since birth?
It is an essential treatment because most puppies are born with worms.
Will the puppies have had their first vaccinations before they go to their new homes?
In most cases, puppies should have their first vaccinations before going to their new homes.
Finally, ask lots of questions about the puppy. At the same time, remember that a good breeder will ask you a lot of questions as well. They will need to know whether you truly love dogs, and will take care of them.
Point to note
Be aware that the puppy should be at least eight weeks old at the point when it goes home with you. A responsible breeder would never send you home with a puppy younger than that.
How would a Healthy Puppy Look?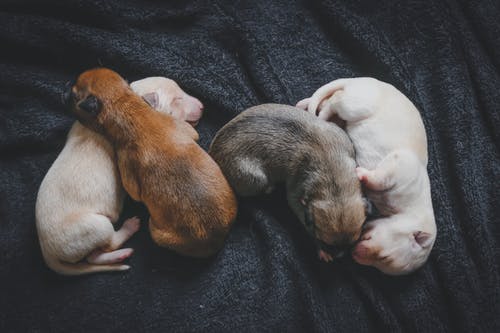 First, check if the mother appears healthy and happy and what type of temperament she has. Your puppy may well share her qualities!
Then, check if the puppy has:
a shiny coat and a clean, dry skin
no discharge / fleas, ticks etc.
a healthy weight – not too skinny and not too fat, no ribs shown
clear, bright eyes with no dirt or redness and clean ears with no smell
a good sight and hearing – check by waving or clapping and checking they respond appropriately.
a cold, slightly wet nose, white teeth, and pink gums
strong, sturdy legs with no limping
is:
curious
healthy and happy.
alert (but don't mistake sleepiness for lethargy)
and:
walks and plays all okay
eats well
Final Thoughts
When you're going to get a puppy from a breeder, rescue organization, or a breeder, the first thing you need to make sure is that your, your family and house are prepared to welcome a new member, mentally, socially, physically, financially and in terms of behaviour. Then, make sure you find a good place that adheres to health precautions, to get puppies or adult dogs. Finally, do all the necessary health and history checks of both puppies as well as parents. If you are buying a puppy, then check for dog prices in Sri Lanka. Once  you are happy with everything, well, you have got yourself a cute puppy or dog for a lovely companion!